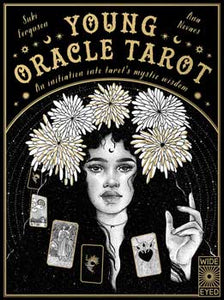 Granny Magick Margaret Jamison
Young Oracle Tarot: An initiation into tarot's mystic wisdom
Regular price
$24.99
$0.00
Unit price
per
HARDBACK From the Publisher
TAROT & PLAY
Before anything else, tarot was invented as a game to be played among friends! The beauty of the cards gives us a thrill—and they allow us to whisper our secrets, revel in new possibilities, and laugh at the dramas of our lives.
MAJOR ARCANA
The first twenty-two cards of a tarot deck are unique to tarot. Called the Major Arcana, and numbered from zero to twenty-one, these cards look mysterious, and are loaded with meaning. Each card in the Major Arcana represents a major chapter in life—though how you feel about each card may change as often as your circumstances do!
THE EMPRESS
The Empress is surrounded by a golden harvest, sitting upon a throne inscribed with the symbol of Venus, the Greek goddess of love. She is affectionate, experiencing life through her senses as well as her mind. If you met the Empress, she would be sure to give you a warm hug. In loving her own life, she is able to love others. She can bring motherly energy into a reading. The Empress reminds us that we are part of the wonder of nature, we are loveable and we are more than enough—we are bountiful and capable of joy.
JUSTICE
Justice holds up a sword, symbolizing reason, and scales for weighing up opposing elements. With her direct gaze and imposing surroundings, The Justice card is all about taking responsibility. This can mean taking an upcoming decision seriously or taking care to be fairer to others. It can also be a reminder to accept the consequences that arise from our actions. Justice asks, are you being your best self? Are you making the right choices? In a reading, this card says that being truthful and self-aware will serve you well.
Description
Product Description
This enchanting treasury of all things tarot for readers ages 11 and up gives a fascinating insight into the history, secrets, and practice of tarot.

Featuring a foil-detailed cover, a ribbon marker, and stunning illustrations, Young Oracle Tarotreveals for young oracles-in-training what tarot is, how to read the cards for themselves and for others, and how this ancient mystical practice can be used for self-reflection, self-care, problem-solving, and much more.

For hundreds of years, people have sought answers to life's big questions in tarot cards. This book will help young truth-seekers use the cards to navigate their own trials and triumphs, from family life, friendships and relationships, to school, work and health.
 
Everything readers need to get started on their tarot journey is contained in Young Oracle Tarot, starting with the rich history behind the cards and flowing forward to how they can be used today when relating to ourselves and to others, with simple card explanations and guidance for completing different readings.
 
The book includes:
A

timeline

of tarot through the ages

Examples of how today's young readers can make the most of tarot

Tips

on how to conduct

personal readings

and

reading for others

 

Explanations of all the cards in the

Rider-Waite-Smith deck

, as well as information on other decks

Guidance on how to practice

1-card daily readings

,

3-card draw readings

, and

Celtic Cross readings

A

glossary

of mystical terms
This magical guide will initiate readers into a powerful global tradition and
empower tweens and teens
to trust their intuition, recognize their strengths and talents, and reflect on and process situations and problems that are important to them.
From School Library Journal
Gr 8 Up—This title briefly covers the history of tarot via an illustrated time line and includes a glossary of terms, the basis for tarot's symbolism, how it's viewed today, and how several modern decks have innovated the imagery to be more inclusive. Also included is a section on Pamela Coleman Smith, the artist behind the Rider-Waite-Smith tarot, arguably the most well-known deck to date, and the deck this book examines as a starting point for beginners. Historically, Smith has tended to be overlooked in favor of her male collaborator (A.E. Waite) and the company that originally published the deck (Rider), so this is a nice touch. The book then covers both arcana, the four suits, and each card individually. Moody illustrations and glossy design aesthetics make this a very attractive book, especially to teens interested in the esoteric. VERDICT The design aesthetics, accessible writing style, and broad but detailed overview of information make this title a valuable addition to any teen nonfiction collection.—Chelsea Lytal
Review
'A sumptuous treasury of all things tarot, written especially for teen readers. Includes a short history plus an exploration of how tarot can be used for self-discovery and social justice.' ―The Bookseller

'From the gold foil cover to the gorgeous illustrations, this is a wonderful overview, an introduction to what tarot is and how it works.' ―Armadillo Magazine
About the Author
  Suki Ferguson is a writer. She practices nature worship, is an advocate for climate justice, and is the author of Young Oracle Tarot: An initiation into tarot's mystic wisdom (Quarto, 2022). After growing up in a rural part of Britain, she now lives in London, where she can be found reading tarot, wild swimming, and appreciating the local flora and fauna.
Ana Novaes is an illustrator and young witch from Brazil. Her art explores themes of femininity, spirituality and witchcraft.
Product information
| | |
| --- | --- |
| Publisher | ‎Wide Eyed Editions (February 22, 2022) |
| Language | ‎English |
| Hardcover | ‎80 pages |
| ISBN-10 | ‎0711263779 |
| ISBN-13 | ‎978-0711263772 |
| Reading age | ‎11 - 16 years |
| Grade level | ‎6 - 11 |
---
Share this Product
---