Granny Magick Margaret Jamison's Shopify is up & running!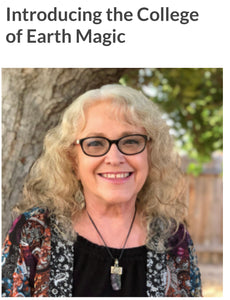 I am pleased to announce that my EarthMagick Course for Allison DuBois' Dead University is expected to be open for enrollment this October. Speaking of which, I will also be doing two podcasts in October with Allison. Check it out at AllisonDuBois.com! October 15th I will be part of the amazing Tarotpalooza crew, teaching an online workshop on Tarot and manifestation magick. Get your tickets here: https://tarotpalooza.com/2022/granny/
---
Check out Medium Allison Du Bois' podcast The Dead Life this Wednesday morning, May 25, 2022, to listen to her interviewing Margaret Jamison of Granny Magick. It's available on any podcast app, but may also be found on Allison DuBois' website at alisondubois.com. Some basics of being a witch are discussed, while having some fun and laughs as well. I learned somethings about talking to the dead as well. If you'd prefer the video version, check out Allison DuBois' The Dead Life Podcast on YouTube this Wednesday as well. Look for a big tarot related announcement on my social media...