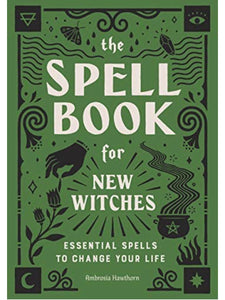 Granny Magick Margaret Jamison
The Spell Book For New Witches by Ambrosia Hawthorn
Regular price
$16.99
$0.00
Unit price
per
Beautiful paperback version!!!
The ultimate beginner's book for new witches
Become a practicing witch with these simple spells. This book will help you unlock the magic within so you can transform every area of your life.
The Spells: 130 spells and charms cover everything from love, money, and health to clarity, comfort, and car protection.
Romantic Love
23 spells and charms, including:
Getting Over Love Spell

Burning Heartbreak Spell

Come to Me Oil

Lover's Tonic

Jealousy Mirror Spell
Money Matters and Prosperity
19 spells and charms, including:
Growing Riches Spell

Cleansing Debt Water

Hardship Banishing Spell

Luxury Tea

Prosperity Talisman
Work and Career
17 spells and charms, including:
Energizing Spell

Workplace Peace Spell

Quitting Spell

Boosting Productivity Spell

Anti-Procrastination Oil
Cast life-changing spells with this essential book for witches
Spells are the practical side of magic, and this book will teach you everything you need to know to cast your very own. You'll learn the history of spellcraft, find advice on how to prepare for spellcasting, and get detailed instructions for a wide range of spells for romantic love, abundance, success, and more.
What sets this The Spell Book for New Witchesapart from other wicca and occult books:
A step-by-step approach—Take the intimidation out of creating magic with spells that include instructions for how much time you'll need to invest, the optimal times to perform them, and the simple tools and ingredients needed.
Suitable for all experience levels—These approachable spells and charms are perfect for beginning witches and seasoned practitioners who want to improve their lives.
Engaging format—Charmingly illustrated pages and spells make for a truly magical learning experience, and the cookbook-like layout ensures you can find the spell you need fast.
 Access your personal powers and discover your inner witch using The Spell Book for New Witches.
Review
"Finally, a book written for not only new witches but intermediate witches as well. Ambrosia has gifted us an abundance of spells we can use in our everyday lives, and I love the practicality of it! The content is easily transcribed to any Book of Shadows!"―Karla M. Freeling, owner, Wiccanology
"Learning witchcraft can be intimidating, but this dynamic book breaks down the basics and presents spells that are simple and easy for the beginner. Ambrosia also addresses misconceptions about the practice of witchcraft and lays a foundation for ethical magic making. This is the perfect starting point for anyone curious about tapping into their own magic!"―Miss Wondersmith, founder of TheWondersmith.com
"For those tired of the same information in every book, The Spell Book for New Witches is a refreshingly no-nonsense addition to the bookshelf. It's packed with information novices need to begin their practice and spells veterans can use to expand their knowledge. And no one's better to coach you through it than Ambrosia Hawthorn, a leading, trusted voice in the witchcraft community."―Sarah Justice, owner, The Tiny Cauldron
"A handy resource filled with spells, charms, and the fundamental building blocks every practitioner needs to know. This book is one you will want to keep close by for years to come."―Monica Crosson, author of Wild Magical Soul: Untame Your Spirit and Connect to Nature's Wisdom
 AMBROSIA HAWTHORN is a tarot reader, astrologer, and traveling eclectic witch with roots in Yup'ik shamanism and Puerto Rican folk magic. She is the owner of Wild Goddess Magick, a witchcraft blog, and the editor of Witchology Magazine. Ambrosia's goal is to create and share new content about all types of magic with every witch.
---
Share this Product
---