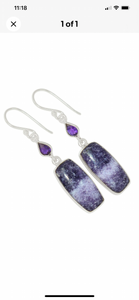 Granny Magick Margaret Jamison
Lepidolite Amethyst 925 Silver Earring 201
Regular price
$24.99
$0.00
Unit price
per
#201 Beautiful Lepidolite Earrings are accented by Amethyst. Metal is solid 925 Sterling Silver. 
Lepidolite is a stone of transition. Soft & soothing, it helps to stabilize emotions, invites you to let go of old patterns, & helps reduce anxiety & other stress factors. Lepidolite connects to the third eye chakra. It also supports the heart chakra & the crown chakra too, connecting you to love, wisdom, & a higher sense of purpose. Lepidolite can also be used to reduce the negative effects of EMFs. Lepidolite is used for harmonizing the body, mind, and soul. It also helps grow inner wisdom, trust, & divine connection with higher realms. Lepidolite has naturally high levels of lithium in it, & also comes with protective qualities that help protect the wearer from bad energy & the fallout of EMFs. This stone invites you to move through life with a clear heart, clear mind, & clear intention.
Amethyst is a natural tranquiliser, it relieves stress and strain, soothes irritability, balances mood swings, dispels anger, rage, fear and anxiety. Alleviates sadness and grief, and dissolves negativity. Amethyst activates spiritual awareness, opens intuition and enhances psychic abilities.
---
Share this Product
---