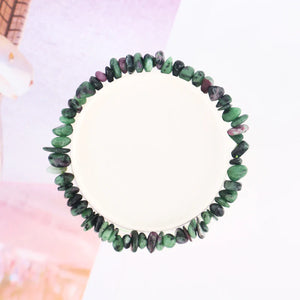 Granny Magick Margaret Jamison
Epidote Chip Stretch Bracelet
Regular price
$4.95
$0.00
Unit price
per
"Stone of Enhancement"
Epidote is the stone to have if you want to experience many good things in life. It inspires you to want more out of life and to rid yourself of attitudes that are not healthy for you. It will enhance your awareness of various aspects of yourself and your spiritual purpose. It is helpful if you unknowingly have been resistant to letting go of some attitude that you need to change in order to achieve your highest good. It won't help you manifest something out of thin air, but it can help you welcome more of what you already have into your life. Conversely, if you're focused on negativity and complaining, Epidote may bring more reasons for both until you are motivated enough to change what is not working. 
Epidote has a very strong vibration and is powerful. If you are having a bad day or feeling under the weather Epidote can make it seven times more intense which is why this stone is normally used to enhance other crystals' properties, rather than being used by itself. So if you use Epidote use it respectfully and mindfully as the saying "what goes around comes around" is the epitome of Epidote. 
Healing Properties & Benefits
Enhances the ability to have lucid dreams, astral walk, and engage in subconscious work and healing while asleep. Also helps with dream recollection.
Enhance Psychic Abilities 
Cleans the emotional body aura 
Raises Your Vibration & Attracts whatever you choose to emanate
Enhances stamina making it a great stone for those like artists and athletes 
Reignites Motivation 
Aids Physical Recovery 
Stress Reliever 
---
Share this Product
---